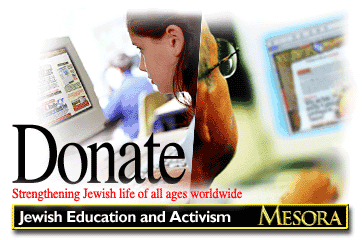 Our activities include free Jewish education and activism for 1,000,000 unique visitors, with approximately 5,000,000 pages viewed worldwide and over 4,000,000 JewishTimes downloads. We receive 1000s of weekly visits and numerous emails from readers seeking answers to their important concerns. We research and respond confidentially, displaying the beauty our laws and heritage, causing more Jews to connect with a higher level of Jewish living. This ensures future generations are Jewish, and have a greater commitment. Our Letters page shows the positive impact we have made 16 years online.
Mesora spearheads many, unique community drives and activism campaigns for Israel, and we have been heard. We have been featured in US News & World Report, The Jewish Press, WorldNetDaily, The Jewish Week and IsraPost. Harnessing our numbers and the power of the Internet, our drives spread quickly, growing the number of participants exponentially: 200,000 signatures have been amassed to date. Your support enables us to continue our vital and unique programming, benefiting tens of thousands who seek to enlighten themselves with our Jewish heritage, and actively participate in strengthening world Jewry. Kindly contribute to our educational and activism efforts at your right, and thank you again.
Donate by mail, send to:
Mesora of New York, Inc.
POB 153 Cedarhurst, NY 11516

For larger donations and prominent dedications please Click Here.

Mesora - a 501(c)3 non-profit organization.